Tony Blair and William Hague are both in their 60s. Perhaps not the first people you'd expect to be calling for the UK to get with the times and "discover its place in this new world".
Their report – which calls for the government to roll out a "digital ID" for everyone in the country – isn't the first to highlight the opportunities the UK could enjoy as a global leader in research and development which is already home to some of the world's best universities and high-tech companies.
What's significant about their call for action, is that it comes from two former political foes. They warn their successors in government and opposition that unless they unite with a shared drive to embrace science and technology, they risk being stuck in the past.
"We are in danger of conducting a 20th-century fight at the margins of tax and spending policy when the issue is how we harness this new revolution to reimagine the state of public services."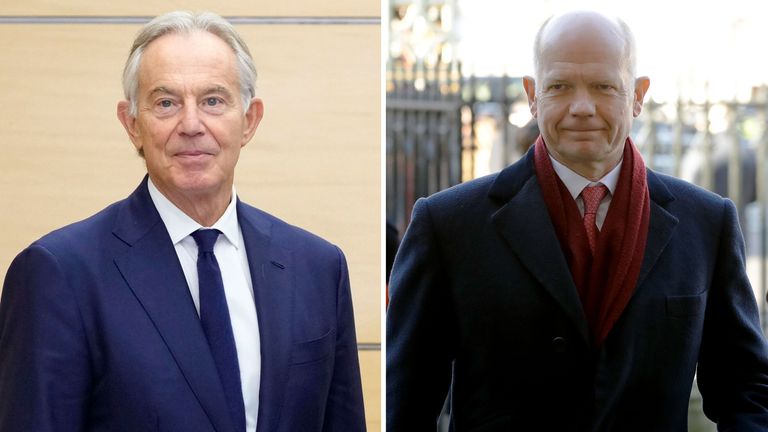 Their report highlights the opportunities to be gained from re-organising government to drive science and technology throughout political and public life: Bringing AI technology into public services from digital IDs to recognising NHS data as a "competitive asset"; overhaul planning to prioritise growth in the research and development sector; and fast tracking the latest technology into the education system.
Much of the substance of the report, from planning reform to embracing AI (artificial intelligence), could have been lifted straight out of the current chancellor Jeremy Hunt's "plan for growth" outlined in a speech in January.
Read More:
Smartwatches and fitness trackers could trigger heart attacks
MPs vote for controversial legislation to introduce voter ID
Northern Ireland Brexit deal 'not close', says senior Tory MP
In fact, the importance of the high tech, low carbon economy has been central to pretty much every chancellor and shadow-chancellor's thinking in recent times.
But none of them has shown much evidence of delivering it.
A focus on technology uncertain due to Brexit and Northern Ireland
The report's timing is apt. One of the greatest current challenges to the UK R&D sector is uncertainty around government support post-Brexit.
Whether we remain allied with the EU's science funding arrangements or go it alone has been in limbo with little hope of resolution until negotiations around Northern Ireland are settled.
It's just emerged that £1.6bn in science funding has been returned to the Treasury from the new Department for Science Innovation and Technology because of continued uncertainty about European involvement.
That's £1.6bn which now won't be spent on UK research. Ironic given the Blair/Hague report calls for an end to Treasury "micro-management" of R&D funding.
And there's little evidence of political cooperation around Europe, let alone our technological future outside of it.
Click to subscribe to the Sky News Daily wherever you get your podcasts
Given the speed at which many technologies advance, AI and genomics almost unbelievably so, it's understandable that policy lags behind.
But does the current climate leave any of our politicians the time and energy to lead Britain into a smarter, more streamlined, silicon-clad future?