Will robots rule the world? Maybe.
But right now I'm watching one carry out orthopaedic surgery, and it's not frightening – it's fascinating.
Scrubbed in and masked up, Sky News was invited to see a robotic arm assist with a full knee replacement at Walsall Manor Hospital.
It's the first time that this type of technology has been used at an NHS district general hospital, and leading today's pioneering surgery is clinical director, Thomas Moores.
"Has it been quite nerve-wracking, getting ready for this?" I ask him, ahead of the procedure.
"No, it's exciting," he says.
"The robotic technology helps us plan in advance, so there's actually a lot less stress in terms of the surgery itself."
Today's patient is Jess Sansara who is in his 60s.
He has severe arthritis in his right knee and, for months, it's been too painful for him to walk.
'We used to be offering 18-week waits' but now it's 'a backlog of one to two years'
"Patients have had to wait far too long for their joint replacements," Mr Moores says.
"We used to be offering 18-week waits. COVID unfortunately had given us a backlog of one to two years."
That's where doctors hope robotic-assisted operation can help (and where, if you're squeamish about saws, bones or surgery you might need to skip to the end).
First, the preparation is different.
Using the robot's technology, a 3D computer image of the joint is made ahead of the operation.
The parts of the deformed bone that need to be removed are marked on this image.
It is those parts that will need to be cut off before the new, artificial knee joint can be fitted.
The robotic arm is mounted on a large mobile platform and gets wheeled in, next to the operating table.
The "hand" end of the robotic arm is securely attached to the orthopaedic bone-saw that'll be used in surgery.
The surgeon also holds the saw, and can start and stop it.
Now, this is where the plan comes in.
The margin for error is tiny
With the saw now on, the surgeon starts to cut the bone under guidance from the robotic arm.
The robot's sensors limit the surgeon's saw movements, restricting any cuts to the bone beyond the planned excisions marked on the 3D image.
The margin for error is tiny.
The robot automatically stops the saw if the surgeon strays more than half a millimetre outside the marked area.
We see it doing just that, as Mr Moores – surrounded by colleagues both robot and human – starts to operate.
In front of the surgical team is a large computer screen featuring the 3D image of Mr Sansara's right knee.
The real-time movement of the saw is tracked on the screen, which also indicates the lines beyond which the saw should not cross.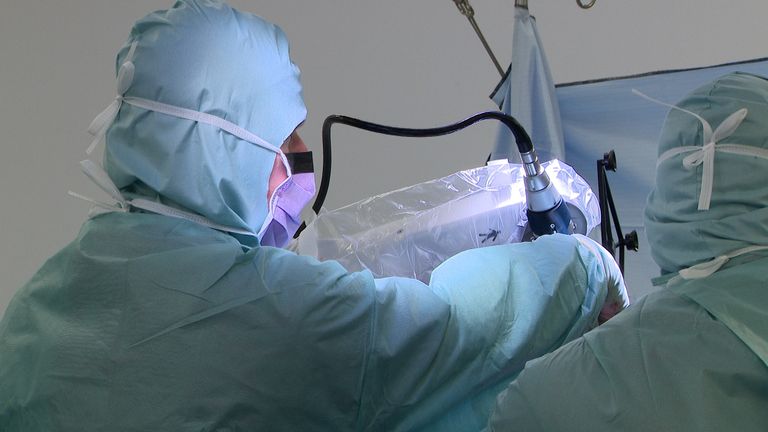 'It means that every day is the best day in surgery'
On the, admittedly, rare occasions that Mr Moores moves beyond those lines, the screen flashes red, the robot steps in and immediately switches off the saw.
"With the robot-assist, really it means that every day is the best day in surgery," Mr Moores says, "[and] it's really safe for patients, with less soft tissue damage for some, for others, greater bone preservation."
In patient-speak, that can mean less pain and a quicker recovery.
For the hospital, it means an ability to free up beds faster.
"Early evidence shows it will probably translate into reduced length of [patient] stay," says Fahad Hossain, the hospital's director of research and development.
"The quicker we can get our patients out, the sooner we can get the ones that have been waiting longer in."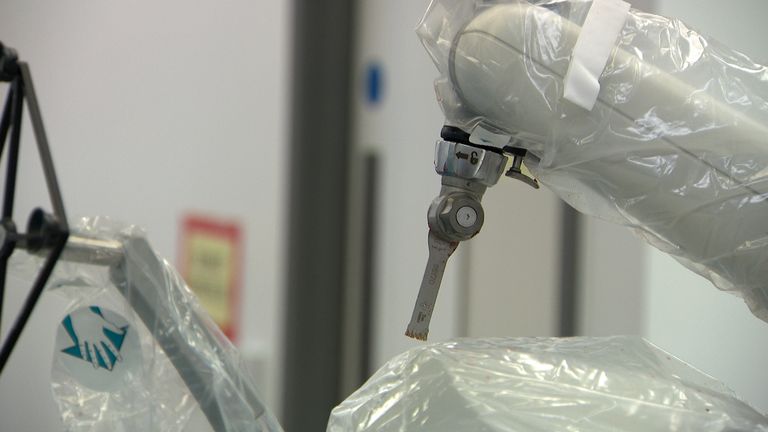 'The future of this type of surgery for all patients'
But, unsurprisingly, this technology isn't cheap.
The hospital's trust has made an £1.8m investment here, using grant money earmarked specifically for innovation.
At a time when NHS spending and staff salaries are under intense scrutiny, it's a hefty spend on a piece of equipment with the relatively narrow operational application of hip and knee replacements.
But its backers believe it will help relieve pressure on the health service almost immediately.
"A lot of the strain is coming from a bottleneck of patients in beds," Mr Hossain says.
"We're really proud to be able to bring this technology to the community here for use at an NHS district hospital.
"Normally this would be the domain of the private sector, but we believe it's the future of this type of surgery for all patients."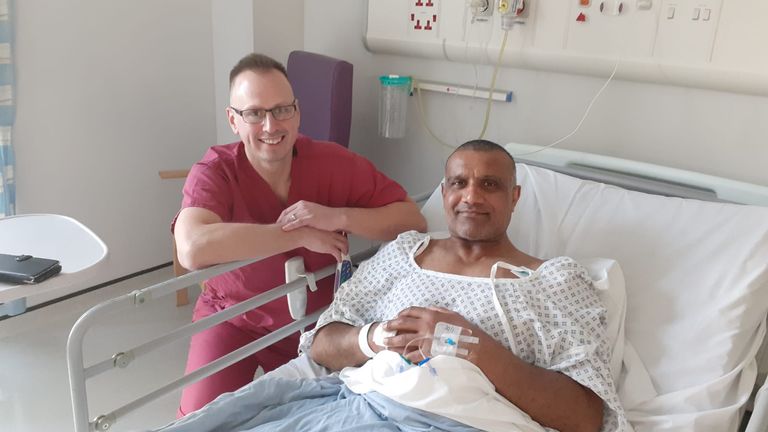 'Better patient outcomes'
Around two hours after he went under general anaesthetic, Mr Sansara's operation is complete.
He's been fitted with a new artificial knee joint, his mobility looks good and he's off to recovery.
"If he passes all our physio assessments, we'll have him home tomorrow afternoon," Mr Moores says, "and I think that's what this robot technology is going to give us – help reduce those lengths of stays, help get us better patient outcomes."
The next morning, the hospital messages to let us know that Mr Sansara is up and doing well.
Forget man versus machine: this robot is here to help.