Japan's space agency aborted the launch of its first new rocket in more than 20 years after parts of the system failed.
The Japan Aerospace Exploration Agency (JAXA) stopped the launch of its flagship H3 rocket moments before lift-off when a pair of its auxiliary rockets did not ignite.
A TV livestream showed smoke had already started pouring out of its main engine when the launch was halted at the Tanegashima Space Centre in southern Japan on Friday.
JAXA mission manager Masashi Okada said "many people were waiting for and looking forward to this day" and he feels "extremely regretful and frustrated in myself".
Read more:
Why did the UK's first satellite launch fail?
"We will investigate the cause as soon as possible and do our utmost to try again," he added.
Mr Okada said the rocket's main engine ignited successfully, but an electrical signal which would then ignite its auxiliary booster rockets was not sent due to an unidentified issue, most likely to be electrical.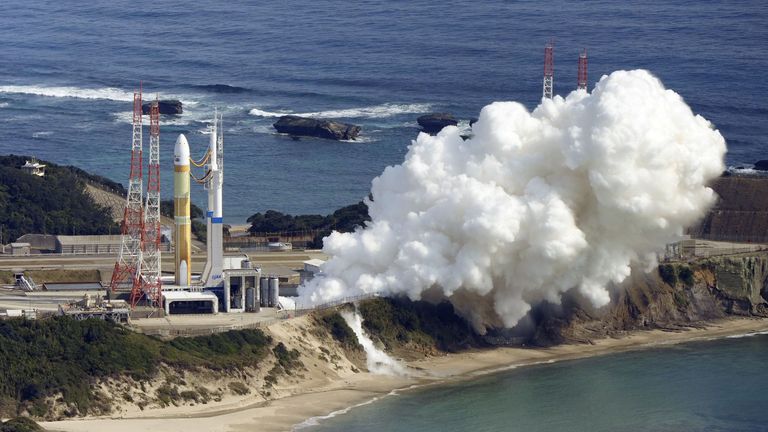 He hopes the issue can be fixed so that another launch can be attempted before the current window closes on 10 March.
H3 – the first new series to come from Japan in more than 22 years – carries an observational satellite fitted with an experimental sensor that could monitor and detect missile launches.
The satellite would also be used to collate data for creating maps and planning disaster response.
The aborted launch marks the second setback in Japan's space programme in the space of a few months – in October, JAXA's Epsilon-series rocket also failed to take off.
Friday's launch had already been delayed from earlier this week due to bad weather, while an engine development delay for the new £1.2bn aircraft had meant it was postponed from its originally-scheduled 2020 launch.