Robots can improve mental wellbeing in the workplace, but only if they look right, research suggests.
A study by the University of Cambridge found that people who interacted with robots that were more toy-like, felt a greater connection compared to human-like robots.
Over four weeks, 26 employees took part in the weekly robot-led wellbeing sessions.
While the robots had identical voices, facial expressions and scripts for the sessions, their physical appearance affected how people interacted with them and how effective they thought of them to be.
The first, the QT, is a childlike humanoid robot and roughly 90cm tall, while the second, Misty, is a 36cm tall toy-like robot.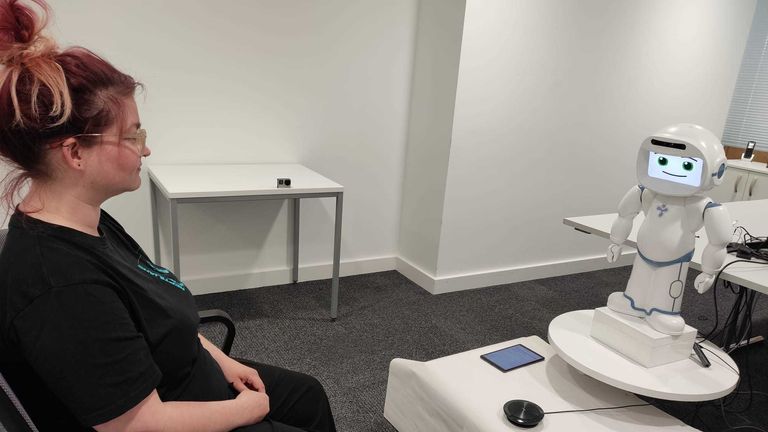 According to the researchers, toy-like robots look simpler, meaning people may have had lower expectations and ended up finding the robot easier to talk to and connect with.
Those who worked with the humanoid robot found their expectations did not match reality, since the robot was not capable of behaving or interacting like an actual human.
Read more:
ChatGPT creator announces upgraded AI model
Where TikTok is restricted around the world as the UK government considers
Dizzy apes provide clues about human desire for mind-altering experiences
These perceptions of robots are typically guided by popular culture. Researchers added that in films, TV shows and books, robots can do anything that an individual's imagination can think of.
But when faced with a robot in the real world, it often does not live up to expectations.
Click to subscribe to the Sky News Daily wherever you get your podcasts
Co-author of the study, Minja Axelsson, said that these perceptions of "how robots should look or behave might be holding back the uptake of robotics in areas where they can be useful".
Professor Hatice Gunes, from Cambridge's Department of Computer Science and Technology, said it is "incredibly difficult" to create robots that are capable of natural conversation.