Bereaved parents of children who took their own lives want authorities to take online histories into account when determining their cause of death.
The mother of Archie Battersbee, who died in August 2022 after a "prank or experiment" that went wrong, joined other families to demand more access to content their children were exposed to online.
"I think it should be available and be part of the whole investigation," Hollie Dance told Sky News.
"When it comes to a child's death, everything should be looked into.
"Obviously they look into the parents, the home life, school life. Why not look into social media?"
Ms Dance's 12-year-old son Archie died after being found unconscious at home four months earlier.
She believes he may have been taking part in an online challenge, but a coroner ruled his death an accident.
"We've got his phone now, so let's go back and see what this child was into," she said.
"What did he watch? Did he look at a lot of social media? Didn't he?"
August 2022: 'I'm broken'

Molly Russell ruling 'opened our eyes'
Ian Russell campaigned to get access to his daughter Molly's social media history after she was found dead in her bedroom in November 2017.
It emerged Molly, 14, had viewed masses of content related to suicide, depression, and anxiety online.
In a landmark ruling at an inquest in September, a coroner ruled she died not from suicide, but "an act of self-harm while suffering from depression and the negative effects of online content."
Ms Dance, who was joined by Mr Russell at a meeting of bereaved families this week, said: "Having Molly's dad here has given us knowledge that we didn't know.
"It opened our eyes to things that we can potentially do and use moving forward."
Read more:
'It was shocking to see material was that bad'
'Losing friend at that age was scarring'

'What has happened to you?'
Liam Walsh's daughter Maia died just weeks before her 14th birthday.
An inquest into her death opened in October, but a hearing date is yet to be set.
Mr Walsh hopes the coroner will have access to Maia's full social media history before determining what caused her death.
"The question I asked as I ran my fingers through her hair, and I held her belly, was what has happened," he said.
"What has happened to you? I'm still asking that question today."
Read more:
Prince William calls for greater online safety
'We have this mission'
In her first interview since her son Isaac's death in March 2022, Lisa Kenevan told Sky News she is on a mission to bring change.
"He was a typical 13-year-old boy with a good group of friends," she said.
"He was very loving. We'd hold him every day, and he'd hold us every day."
She thinks social media might hold clues to what drove Isaac, 13, to his death.
"Our world has just been awful, but we have this mission, this need, this want to get out there for every other parent that's been going through this, to either come forward or know they've got support," she said.
"And to really push forward to get some awareness about the social platforms – that things need to be stepped up."
Read more:
Online Safety Bill is certainly too late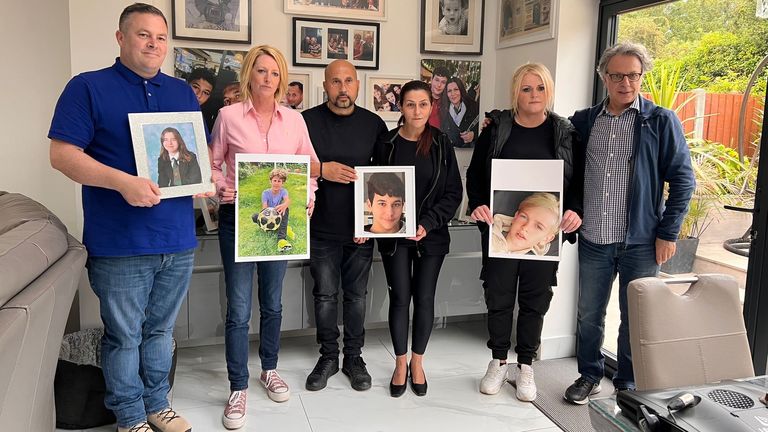 'Threats were made to hurt us'
The families met at the home of George and Areti Nicolaou, whose son Christoforos, 15, took his own life in 2022 after joining an online forum where he was encouraged to do dangerous challenges.
His parents described him as "the heart of the house", who was "bringing joy and happiness in our home", but the challenges he did escalated and made him miserable.
"There were challenges like he's got to not go to sleep at all, then go to school in the morning," his parents said.
"Then there were challenges like you've got to chat with us through the night. Then there were challenges where they made him get his phone and record the whole house.
"Then threats were made to hurt us, his parents, should he not complete the challenges he's been asked to do."
George and Areti have launched the Christoforos Charity Foundation in their son's memory.
They hope their work with other families to raise awareness of online harms ensure his legacy reaches even further.
The families' meeting came as the government's Online Safety Bill makes its way through parliament.
The proposed law – which aims to regulate internet content to help keep users safe, and also to make companies responsible for the material – has been repeatedly held up over concerns about its impact on freedom of expression.
Surveys suggest it has the backing of a majority of UK adults and charities like the NSPCC and Barnardo's.
Anyone feeling emotionally distressed or suicidal can call Samaritans for help on 116 123 or email jo@samaritans.org in the UK. In the US, call the Samaritans branch in your area or 1 (800) 273-TALK